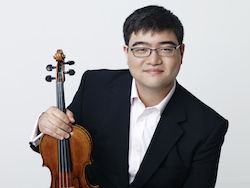 Ken Hamao, violin
Described by the New York Times as having "especially eloquent playing," Ken Hamao is a dynamic musician renowned for his sensitive interpretation. In addition to the violin, he performs on the viola and mandolin, and is an avid proponent of contemporary music.
Ken is the newest member of the Grammy-nominated Enso String Quartet. Also a core member of Argento Chamber Ensemble and the New York Classical Players, he has held visiting residencies at Smith College, Sonoma State University, and the Institute of Advanced Study with Argento. Additionally, Ken has performed with Gil Shaham, Shlomo Mintz, Merry Peckham, the Borromeo Quartet, Anne Manson, John Zorn, East Coast Chamber Orchestra, Metropolis Ensemble, East Coast Contemporary Ensemble, and AXIOM. He can be heard on Tzadik Records.
Ken has appeared as a soloist with the Juilliard Orchestra, Kobe City Chamber Orchestra, American Youth Symphony and YMF Debut Orchestra, among others. He has been a prizewinner at several competitions, including the Concours International de Violon Sion Valais, the Bronislaw Kaper Awards, and Kingsville International Violin Competition.
While at the Aspen Music Festival and School, he was invited to perform a special concert with former U.S. Secretary of State Condoleezza Rice. Other festivals include Saito-Kinen, Taos, Perlman Music Program, Skaneateles, and Moving Sounds.
As part of the Columbia-Juilliard Exchange Program, Ken received his Bachelor of Arts in Economics and Psychology from Columbia University and a Master in Music from Juilliard. He is currently a C.V. Starr doctoral fellow at the Juilliard School, focusing on the operas of Leoš Janácek and Giacomo Puccini for his dissertation. His mentors include Masao Kawasaki, Ronald Copes, Mark Steinberg, Robert Lipsett, and Zakhar Bron.