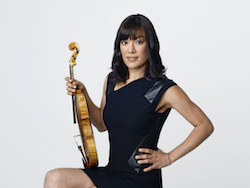 Maureen Nelson, violin
Maureen Nelson is a founding member and first violinist of the Grammy-nominated Enso String Quartet, which originated at Yale University in 1999, while she was at Yale earning her master's degree. She keeps a busy touring schedule, with engagements across the United States and abroad, and has led the quartet to top prizes at several major competitions, including the Concert Artists Guild International Competition, the Banff International String Quartet Competition, the Fischoff National Chamber Music Competition, and Chamber Music Yellow Springs.
As a winner of the Greenfield Competition, Maureen appeared as soloist with the Philadelphia Orchestra in 1990, and has since enjoyed international success as a chamber musician, soloist and orchestral player. She was concertmaster of the Detmolder Kammerochester and is a member of the River Oaks Chamber Orchestra since 2010. She has appeared frequently for Musiqa, the Houston-based new music series, at which she has premiered many works. Maureen is also a recipient of an NFAA/Arts award, and was an arts finalist in the U.S. Presidential Scholars Program.
A native of Pennsylvania, Maureen was enrolled in Temple University's Center for Gifted Young Musicians at the age of twelve, and began attending the Curtis Institute of Music shortly thereafter. Her teachers include Shmuel Ashkenasi, Jascha Brodsky, and Yumi Ninomiya Scott.
Maureen has participated in music festivals around the world, including Evian, Sarasota, SummerFest La Jolla, Festival d'Aix en Provence, Festival de Inverno Campos do Jordão (Brazil), Prussia Cove, Pacific Music (Japan), Schleswig-Holstein (Germany), and St. Bart's Music Festivals. She is a former faculty member of Boston University's Tanglewood Institute, a former adjunct professor at Rice University's Shepherd School of Music, and is currently on the faculty of the Adult Chamber Music Camp at the Interlochen Arts Academy. She has performed live on numerous radio stations, including Australia's ABC, Canada's CBC, SiriusXM, New York's WQXR, and for National Public Radio's Performance Today.
Maureen: The first time I held a violin, it was actually a toy guitar presented by my mother. My parents had never had the opportunity to study music, and my mother was determined that I would become the next greatest female classical guitarist. Much to her dismay, as she handed me this gift of encouragement, I turned the little guitar around, tucked it under my chin, and started making air bows.
The following year, when I began the first grade, my mother enrolled me in group violin lessons. I quickly took to the instrument, and soon moved on to private lessons. Sadly, after only one year of study, my parents moved to Hobbs, a small town in New Mexico, where there were no violin teachers. Believing in my talent, my mother, and my teacher back in Pennsylvania, concocted a plan. For the next four years, my mother patiently videotaped me plodding through countless etudes and studies, then mailed the tapes to my teacher, who would send back her comments and criticisms on audiocassettes.
When we moved back to Pennsylvania, I resumed my private lessons, and flourished. One day, a few years down the road, I was accepted into the esteemed Curtis Institute of Music. That same day, I won a competition to solo with the Philadelphia Orchestra. I pretty much floated home. (Of course, the next day, it was back to the practice room.....)
I feel so fortunate that my mother had an intensely strong love of music, and kept encouraging me. Every day I remember what a gift it is to play and share music with others.